How do you know what is working? If you find out that 95% of people watch channel 5, and only 5% watch channel 9, what does that tell you? Well it doesn't actually tell you much, except channel 5 must be doing something right!
Would you believe, that at the time of this writing, 96% of blogs are hosted on wordpress? and 35% of those websites are hosted on Bluehost. If you go somewhere else, you should have a good reason.
When you're doing research on a blog, it's always helpful to look at the general statistics to see who is standing out in their field.
The Most Interesting Facts
The number of bloggers in the United States will reach 31.7 million this year
77% of people online read blogs regularly
67.5% of bloggers started their careers because they wanted to make money
Successful bloggers spend 4 hours on average to write a post
67% of bloggers who post daily say that they are successful
Blog titles that have good emotional value score can increase shares by 1000%
97% of bloggers use social media to boost their results
Mid-sized companies have 2 full-time bloggers on average
61% of online users in the US have bought something after reading a blog
1. The number of Bloggers in the United States will reach 31.7 million in 2020 (14% increase since 2014)
(Source: Statista.com)
According to the Statista Research Department, the number of bloggers in the US in 2014 was 27.4. The projection from 2016 showed that in 2020, there will be 31.7 million bloggers, which is a 14% increase.
2. Most people start blogs because they want to be self-employed (24.2%)
(Source: Convertkit.com)
The greatest motivation for starting a blog is self-employment (24.2%), while 17% wanted to express themselves in a creative way, and 16% wanted to build an audience of their own.
3. 20 billion monthly blog views on WordPress, which is 52% of total monthly views
(Source: WordPress.com)
Another proof that most blogs are powered by WordPress is the fact that 20 billion blog pages are viewed each month by 409 million users.
4. Blogs are the 5th most trusted source of information
(Source: Optinmonster.com)
It might seem that the 5th place is far down the list, but given the fact that there are dozens of different types of content, blogs are still doing very well.
5. 77% of internet users regularly read blogs
(Source: Quoracreative.com)
Around 43% of people only skim through blog posts, but 36% of readers find blogs credible if they include case studies.
6. Internet users from the United States spend 3x more on blogs than email
(Source: Optinmonster.com)
This statistic only proves how trustworthy blogs are and that online users visit them actively.
7. The majority of blog posts on WordPress are written in English (71%)
(Source: WordPress.com)
Most of the WordPress blogs are in English (71%), with Spanish taking second place (4.7%). They have global value since most people today speak English as their second language.
Writing engaging and high-performing blog posts
How long should you make your content to provide your readers with real value but keep them engaged all the way through? Can you get your message across in a short period that people spend reading a blog post? How long should your headlines be to generate higher click-through rates? How often should you blog? When is the best time to publish new blog posts?
8. Most people prefer reading blogs from 7 am to 10 am
(Source: Hubspot.com)
By sampling 170,000 blog posts, HubSpot has concluded that most people read blogs from 7 am to 10 am, especially during the weekends.
9. Blog posts that are 1,890 words long on average perform best for SEO
(Source: Neilpatel.com)
This doesn't mean that this is the magic number for SEO performance. However, it does indicate that longer posts have better SEO performance overall. Actually, further studies have showed that the longer the post, the more likely it is to be high quality content, and there are also higher chances it ranks for more keywords, which creates larger number of traffics, so remember to focus on quality over quantity.
10. Best reading time for a blog is around 7 minutes
(Source: Buffer.com)
Medium researched the performance of blog posts, considering their length and how many people actually read them. With a thorough analysis, they concluded that 1,600 words or 7-minute blog posts performed best. One thing you can do to help your readers come back and share posts is to have a table of contents and clear article headers. Make the information as easy to read and accessible as possible.
11. Most successful bloggers report that their top-performing posts were 2,424 words long on average
(Source: Growthbadger.com)
Growthbadger asked a total of 1,117 bloggers about which of their posts performed best. The average length was 2,424 words (83% longer than top-performing posts from less successful bloggers).
12. Longer posts get the most shares (from 3,000 to 10,000 words)
(Source: Quoracreative.com)
Given the fact that longer posts are better for long-tail keywords, they have better SEO performance, which leads to a direct
increase in shares.
13. 55% of bloggers that report great results write posts that are at least 2000 words long
(Source: Orbitmedia.com)
Trends show that successful blog posts are getting longer each year, with the number of posts over 2000 words increasing each year.
14. Successful bloggers need almost 4 hours on average to write a blog post
(Source: Orbitmedia.com)
Compared to 2014, bloggers need 65% more time to write a blog on average. However, blog posts are now also 56% longer on average than they were in 2014. Yes, this can be a little scary, but this reinforces the truth that you have to work hard to create a successful blog, it's not going to be dropped in your lap, and just buying a domain name does not mean you're ready to own your own business.
15. Blog titles with a minimum of 8 words have a 21% better click-through
(Source: Seotribunal.com)
This statistic shows just how important the title of a blog is. With the right combination of keywords and catchy title content creators can drastically increase their click-through rate.
16. Blogs with colons or hyphens in their headlines have 9% higher click-through
(Source: Socialmediaexaminer.com)
Although hyphens or colons don't increase click-through on their own, they are valuable tools that allow bloggers to add their keywords and clickbait while keeping their titles logical.
17. Most bloggers (58%) write an average of 2-3 headlines before deciding on one
(Source: Orbitmedia.com)
Only 1% of bloggers try out 11 to over 20 headlines for their blogs before making a decision. However, the number of headlines are directly related to the success of blog posts. From keyword ranking, to CTR (click-through-rate) the title of a post is important to get the right kind of traffic.
18. 23% of bloggers reported that they need 2 -3 hours to write a blog post
(Source: Sidegains.com)
This survey also showed that bloggers need an average of 3.5 hours for a single blog post. On top of that, it also shows that bloggers who spend 6 hours or more on writing their content have higher success.
19. 38% of bloggers who spend at least 6 hours writing a post report great results
(Source: Orbitmedia.com)
An average of 30% of bloggers reports success, while 38% is well above the benchmark. Great results are typically seeing high levels of traffic from SEO and a high click through rate to products or affiliate offers.
20. Long blog posts have 77.2% more inbound links compared to shorter posts
(Source: Backlinko.com)
Longer blog posts simply have more information in them and therefore have a higher chance of someone finding them and linking to them. The more links you can get to refer back to your posts, the more likely google is to rank your post above others, which will bring you more traffic and more targeted traffic.
21. Bloggers that post several times per week have a 250% better results on average
(Source: Neilpatel.com)
183 blogs reported that they publish 22.8 posts on average per month. Consistency is important for achieving better results. Consistency lets your readers know they can count on you for high quality content as well as giving you the chance to build a strong relationship with your audience.
22. Bloggers that post daily report great results (60% of them)
(Source: Quoracreative.com)
15% of bloggers produce and publish content daily, while the majority of those who post every day report good results. This is best done when you're writing genuine, unique content, but you can also look into hiring a ghost writer, or team of writers, to put out great content on a repeated basis.
23. Businesses that post at least 16 blogs each month report 450% more leads than companies that post 4 posts or less
(Source: Hubspot.com)
No matter if the goal is to get brand awareness or organic traffic, posting at least 4 times per week increases overall results.
24. High-income bloggers ($50k per year) publish interviews 3.7x, original research 3.2x, and case studies 5.8x more often
(Source: Growthbadger.com)
Quality beats quantity. Bloggers that are able to engage their audiences do so by providing content with relevant information and real value.
25. 54% of bloggers work with editors, while 46% edit their own posts
(Source: Optinmonster.com)
This statistic shows that it doesn't matter whether someone edits their posts on their own or with someone's help. It all comes down to making your content spotless.
26. Blogs with multiple authors are perceived as more reliable by most readers (62.96%)
(Source: Optinmonster.com)
Hearing the opinion of several people gives more authority and shows that the story isn't one-sided or biased.
27. Mid-sized businesses have an average of 10 contractors and 2 full-time employees working on their blogs
(Source: Neilpatel.com)
Businesses need to work on their blogs actively to achieve results. Some can afford to hire full-time employees, while others work with freelancers.
28. Only 23% of bloggers with high income pay less than $100 per blog post compared to 82% of bloggers with lower income
(Source: Growthbadger.com)
On average, high-earning bloggers pay their content writers 3.6x more, which is a total of $347 per single post. On the other hand, bloggers with low income pay $96 on average.
29. 64% of high earning bloggers do keyword research for their blogs, while only 15% of low-income bloggers do so
(Source: Growthbadger.com)
More successful bloggers have a 4.3x higher chance of doing keyword research before writing an article. They also do social media research more often than low-income bloggers.
The most commonly used types of content
Deciding on the type of content you will use when creating a blog post can sometimes be overwhelming. For instance, you may prefer writing listicles to how-to guides, but what about roundup posts and infographics? Should you spruce things up a bit with other content types every once in a while?
It all depends on your personal preferences and your readers. But you should explore what types of contents yield the most positive results in terms of traffic so that you can consistently increase it.
30. Quality content yields better results and can increase blog traffic by 2,000%
(Source: Omnicoreagency.com)
Google sets the rules for organic traffic and decides what content is visible. They put a lot of importance on content quality, and this is why good articles get more traffic.
31. 17% of blog titles are "How-to" blog titles, which makes them the third most popular option
(Source: Optinmonster.com)
How-to headlines are a special category that is very popular and recognizable by readers. It's a clear message about what readers can expect.
32. Blog posts with high emotional value have a 1000x greater chance of being shared
(Source: Okdork.com)
The higher the emotional value score of a headline, the more that post will be shared. With a score of 40, there is a good chance of getting 1000 shares for each post.
33. Over 60% of marketers post content on their blogs, but a lot of them also repost the same content on social media like Facebook, Medium, Tumblr…
(Source: Neilpatel.com)
Duplicated content on social media isn't penalized. That's why a lot of bloggers repost their articles several days after publishing on their blogs.
34. Most marketers (80%) rely on visual content
(Source: Hubspot.com)
Visual content has surpassed blogging, as only 60% of marketers use blogging, while 80% use visual content. However, this doesn't stop bloggers from adding visuals to their posts.
35. 47% of bloggers add 2 to 3 images in their posts
(Source: Orbitmedia.com)
Images are directly related to the success of blog posts. Only 30% of bloggers that add 2–3 images report success, while 75% of bloggers who add 10 or more images say that they achieved solid results.
36. Compared to stock photos, photos of real people have 35% higher conversions
(Source: Optinmonster.com)
It's not only about adding as many images as possible. It's important to add unique images that are believable and relevant. Furthermore, new images can give more SEO value.
37. Adding audio content to blog posts has helped 45% of bloggers achieve better results
(Source: Optinmonster.com)
The majority of audio content that is included in posts involves podcasts. When done correctly, audio can add more depth to your content and spice it up.
Driving organic search traffic to blogs

Optimizing your blog for search engines is one of the most critical steps you need to take to increase your organic search traffic and SEO ranking. This starts with keyword research, and extends to implementing engaging images and videos, and updating older blog posts to improve their performance.
But to drive more traffic to your blog, you need to promote your content regularly. Social media is your best bet nowadays, but there are also paid ads, email marketing, SEO promotions, guest blogging, and influencer marketing.
38. 38% of bloggers say that they update their old blog posts
(Source:Optinmonster.com)
Even if a blog post has been published for a while, it can still drive organic traffic and get shares. This is why it's important to update those posts with fresh information.
39. Simple text posts have a 50 times less chance to drive organic traffic compared to video content
(Source: Hubspot)
Omnicore's research from 2018 shows that video content has a 50 higher chance of driving organic traffic. At the same time, 51% of online users prefer video content over any other.
40. Half the search queries (50%) are long-tail keywords (at least 4 words)
(Source: Wordstream.com)
Long-tail keywords are great for pad AdWords campaigns, as well as organic SEO reach. When used correctly, they can give you a fantastic ROI.
41. 81% of users find what they are looking for through organic searches
(Source: Newmediacampaigns.com)
The company Jupiter Research did a study in which they concluded that 81% of people online find desired information using search engines. This proves how important search engines are.
42. 83% of bloggers do keyword research, while 26% of them do it for every post
(Source: Orbitmedia.com)
17% percent of bloggers never do keyword research, and only 17% of them have successful results. 53% of bloggers that always do keyword research report strong results.
43. In 2019, 97% of bloggers used social media to drive traffic to their posts, 69% use SEO, and 66% use email marketing
(Source: Orbitmedia.com)
Even though basically all bloggers use social media, only 29% of them feel that they get good results from social media traffic. It's a combined effort, and social media is there to add more fuel to the fire.
44. 97% of bloggers report that social media helps them increase traffic
(Source: Socialmediaexaminer.com)
For a free channel, social media can boost your blog traffic. 93% of marketers agree that social media gives them more exposure, and 88% of them say they have more traffic because of it.
45. 80% of paid advertisements are used for building an audience, 65% to drive traffic, and 52% for niche audiences
(Source: Searchenginewatch.com)
Research by Search Engine Watch has concluded that 80% of markets use paid methods to build audiences. Only 42% look to promote
the launch of new services or products.
46. Almost 60% of bloggers occasionally guest-post
(Source: Webinfotech.co)
Guest posting is a great way to link back to your blog and get more exposure. At the same time, bloggers can build networks that they can benefit from in the future.
Benefits and common reasons for blogging

Why did you start blogging? What is it that motivates you to craft content for the like-minded people interested in the same topics you cover? Is the main reason of monetary nature, or do you find joy in helping people learn something new or solve their main pain points? Do you perhaps blog for business and want to establish yourself as an expert in your field?
Take a look at the benefits that motivate most people to blog and how they monetize their blogs.
47. Businesses that blog actively get 97% more inbound links
(Source: Hubspot.com)
Quality content is rewarded not just by the number of readers and shares. Other sites will also want to link to your blogs as credible sources of information.
48. 67.5% of bloggers blog to make money
(Source: Growthbadger.com)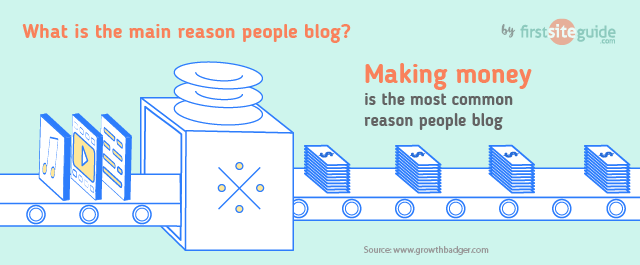 This is the biggest motivation for a blogging career. Both low-earning (64%) and high-earning (71%) bloggers say this is why they started doing it.
49. Blogging is the top inbound marketing strategy for 55% of marketers
(Source: Hubspot.com)
Most marketers (61%) agree that their top inbound priority is SEO, while 55% of them focus primarily on blogging. However, these two are deeply connected to each other.
50. Companies with that blog actively have a 126% better lead growth compared to ones that don't
(Source: Yourblogworks.com)
Research by Orbit media has concluded that small companies with blogs they actively work on have 126% higher growth in terms of leads.
51. 61% of online shoppers in the US say they made a purchase after getting a recommendation from a blog post
(Source: Contentmarketinginstitute.com)
Blog marketing has the power to build trust better than any other marketing method. It really gets the attention of consumers and can be quite persuasive
52. Most bloggers (80%) say that they see positive business results from their blogging efforts
(Source: Growthbadger.com)
This indicates just how good blogging can be even today when there are so many different marketing options.
53. Blogs affect customers' buying decisions as 47% of them go through 3 to 5 blog posts before the buying process
(Source: Demandgenreport.com)
Blogs are still one of the main research options when it comes to shopping for products or services. They have credibility with consumers and can give them in-depth information.
54. US internet users spend three 3x less on email than on blogs
(Source: Demandgenreport.com)
Most people think that blogs have died out, but this statistic proves that blogs are bigger than what everyone might think.
55. High-earning bloggers have 5.6x chance of selling service or products than low-earning bloggers
(Source: Growthbadger.com)
Bloggers who earn more have simply found better ways to monetize their work. A whopping 45% of high-income bloggers sell their own products or services, while only 8% of low-earning bloggers do so.
Conclusion
Blogging can be one of the most rewarding endeavors, both emotionally and financially. However, you need to do it right if you are to experience all its benefits and make your every effort pay off. These blogging stats will help you get a bigger picture of it all and set sails for a successful blogging adventure.
Sources:
https://www.statista.com/statistics/187267/number-of-bloggers-in-usa/
https://convertkit.com/reports/blogging/motivation/
https://wordpress.com/activity/
https://optinmonster.com/blogging-statistics/
https://quoracreative.com/article/blogging-statistics-and-trends
https://optinmonster.com/blogging-statistics/
https://wordpress.com/activity/
https://blog.hubspot.com/blog/tabid/6307/bid/7345/When-is-the-Best-Time-to-Publish-Blog-Posts-Infographic.aspx
https://neilpatel.com/blog/content-marketing-future/
https://buffer.com/library/the-ideal-length-of-everything-online-according-to-science
https://growthbadger.com/blog-statistics/
https://quoracreative.com/article/blogging-statistics-and-trends
https://www.orbitmedia.com/blog/blogging-statistics/
https://seotribunal.com/blog/blogging-statistics/
https://www.socialmediaexaminer.com/6-tips-for-writing-headlines-that-drive-traffic/
https://sidegains.com/content/how-long-to-write-post/
https://backlinko.com/content-study
https://neilpatel.com/blog/content-marketing-future/
https://quoracreative.com/article/blogging-statistics-and-trends
https://blog.hubspot.com/marketing/blogging-frequency-benchmarks
https://optinmonster.com/blogging-statistics/
https://www.omnicoreagency.com/digital-marketing-statistics/
https://okdork.com/we-analyzed-nearly-1-million-headlines-heres-what-we-learned/
https://blog.hubspot.com/marketing/visual-content-marketing-strategy
https://optinmonster.com/google-analytics-wordpress/
https://www.hubspot.com/marketing-statistics
https://www.wordstream.com/long-tail-keywords
https://www.newmediacampaigns.com/page/seo-vs-ppc—which-provides-you-the-better-value
https://www.socialmediaexaminer.com/report/
https://searchenginewatch.com/2018/11/21/7-content-marketing-stats-2019/
https://webinfotech.co/2020/02/26/blogging-statistics-facts-and-trends-2020/
https://blog.hubspot.com/marketing/business-blogging-in-2015
https://cdn2.hubspot.net/hubfs/3476323/State%20of%20Inbound%202018%20Global%20Results.pdf
https://growthbadger.com/blog-stats/
https://www.demandgenreport.com/resources/research/2016-demand-generation-benchmark-report